Bestsellers Book Club
Third Thursdays at 6:30 pm at Bridgeville Public Library
Thursday, April 19th
The Bestsellers Book Discussion is a discussion group for adults that will meet each month to talk about a book that is currently (or was previously) a bestseller or considered buzzworthy.
The Heirs by Susan Rieger
After the death of family patriarch Rupert Falkes, the five adult Falkes brothers and their grieving mother are thrown into turmoil when an unknown woman sues the estate, claiming that her two sons were fathered by Rupert. Novelist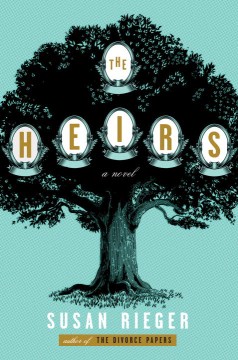 Between Two Libraries: A Book Group for Adults
First Tuesdays from 11:00 am – 1:00 pm, alternating between Bridgeville Public library and South Fayette Township Library.
Tuesday, April 3rd 11:00. at the South Fayette Township Library

Bring a snack or lunch and join us. All are welcome to participate in any/all of our monthly discussions.
Bring a list of books you'd like to read and we will vote to create a list of upcoming books.
My Grandmother asked me to tell you she's sorry By Fredrik Backman
Bullied at school and left out at home, seven-year-old Elsa relies on her grandmother for love and attention, and she is only too happy to provide it. Granny weaves tall tales of the Land of Almost-Awake, and sets up a quest for Elsa to undertake so that she will not be so alone after Granny, who has cancer, dies. Precocious Elsa delivers the letters Granny has left, and as she does so discovers that her neighbors seem to embody characteristics of the creatures from the Land of Almost Awake… NoveList
Wednesday, April 4th 
Join us as we sink our teeth into a good mystery while indulging in a great lunch.
Everything to Lose By Andrew Gross
A determined, down-on-her-luck mother caring for her handicapped son becomes entangled in a murderous conspiracy to keep a 20-year-old secret buried. Novelist
Fourth Thursday Book Group
Fourth Thursdays at 6 pm. Locations announced each month.
Thursday, March 22nd
Join us for lively conversation, good food, and a great book! New members are always welcome.
The Lovely Bones by Alice Sebold
Looking down from heaven, 14-year-old Susie Salmon recounts her rape and murder and watches her family as they cope with their grief and "the lovely bones" growing around her absence. NoveList