Bestsellers Book Discussion Group
Third Thursdays at 6:30 pm at the Bridgeville Library
Thursday, June 15
The Curious Charms of Arthur Pepper by Phaedra Patrick
In this poignant, charming debut, 69-year-old Arthur Pepper stopped engaging with life a year ago, when his wife of 40 years died. But the discovery among her things of a charm bracelet he'd never seen before prompts a quest to discover the origins of the bracelet and all of its charms. His adventures take him from his home in York through the English countryside, and on to Paris and India. If you're looking for a feel-good novel about personal transformations, you won't go wrong with this book. Novelist
Fourth Thursday Book Group
Fourth Thursdays at 6 pm. Locations announced each month.
Thursday, June 22
Join us for lively conversation, good food, and a great book! New members are always welcome.
The Storied Life of A.J. Fikry by Gabrielle Zevin
A middle-aged bookseller mourning his lost wife, a feisty publisher's rep, and a charmingly precocious abandoned child come together on a small island off the New England coast in this utterly delightful novel of love and second chances. NoveList

Wednesday, June 7th 
Join us as we sink our teeth into a good mystery while indulging in a great lunch.
Sweetness at the Bottom of the Pie By Alan Bradley
Eleven-year-old Flavia de Luce, an aspiring chemist with a passion for poison, begins her adventure when a dead bird is found on the doorstep of her family's mansion in the summer of 1950, thus propelling her into a mystery that involves an investigation into a man's murder where her father is the main suspect. NoveList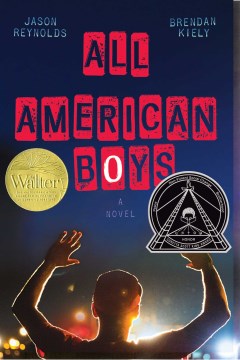 Wednesday, June 21st 
All American Boys by Jason Reynolds
When sixteen-year-old Rashad is mistakenly accused of stealing, classmate Quinn witnesses his brutal beating at the hands of a police officer who happens to be the older brother of his best friend. Told through Rashad and Quinn's alternating viewpoints. NoveList